Company Culture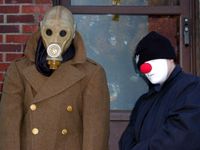 We love what we do. The passion we have for our work enables us to take ownership of our clients' projects. We constantly strive to deliver the highest-quality products possible.
There is no greater satisfaction than delivering a finished product that helps a client reach their goals and objectives. To learn more about our approach to customer service, follow the provided links for more information.
Mission Statement
Our mission is give our customer not just what they ask for, but what they really need.
Guiding Principles
Impression Printings inky past begins in 1960 when Bill Lockard took over the reigns of McCray Printing, his father-in law's small copy shop in downtown Seattle. Bill quickly changed the name to Impression Printing and within a few years added two partners to help him with his simple offset/letterpress shop. Bill's nephew, Al Lockard, came to Impression in the early 1970's. Al quickly re-energized the company, becoming their primary letterpressman, as they expanded their capabilities, adding film, typesetting and finishing operations. Al was made partner in 1975 as Impression continued to expand its role in the printing community, garnering respect and awards.
In 1985 Bill retired and Al became sole owner in 1986. In the same year Al's son Bryce started working part time in college as a letterpressman and bindery operator. With Al controlling the managerial duties and Bryce managing the production facilities, Impression expanded and survived into the 1990's. In 1999, Mike Klinke, owner of The Downtown Printing Co. was asked to merge with Impression. In 2002 Art-Foto Typesetting & Imaging was acquired, expanding the list of capabilities.
For the past 40 years we have been part of the exciting changes in the landscape of the print world , from letterpress to digital printing.
Today, most of our work is business to business, with a mix of retail, non-profits, personal and trade. We strive to both educate, understand and become part of our customer's business.